Zion Becomes the First Kid to Get A Double Hand Transplant
8 year old boy Zion is now the first kid in the world to get a double hand transplant. The process was performed by physicians based at the Children's Hospital of Philadelphia, with assistance of colleagues from the Penn Medicine.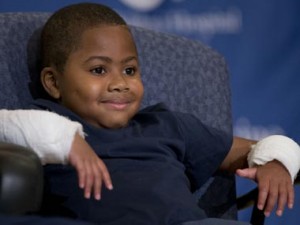 Dr. Scott Levin, director of the Hand Transplantation Program at the Children's Hospital of Philadelphia (CHOP) said, "This surgery was the outcome of many years of training and several months of planning and preparation by an amazing team."
In 2011, the Penn team performed their initial bilateral hand transplant on an adult, which Dr. Scott, says provided surgeons a base using which to plan to perform such a complicated process on a child.
Zion Harvey, an 8 year old boy is the first kid to receive such a transplant. A few years ago he had got a kidney transplant and had both his hands and feet amputated due to a severe infection.
At first, Zion was examined at Shriners Hospitals for Children in Philadelphia, a center well-known for its childrens orthopedic care. However, he was finally recognized as a patient who may be appropriate for the 1st ever pediatric hand transplant.
Chief of staff for Shriners Hospitals for Children and surgical collaborator Dr. Scott H. Kozin, said
"The collaborative work among these institutions was essential to set up the team and organize the players to carefully execute such a complicated and challenging procedure that had never been carried out on a boy this age."
In depth evaluations must be performed on a patient before he/she is considered to be a candidate for the bilateral hand transplant. It was Zion's previous kidney transplant that made him a suitable candidate for the surgery as this meant that he was currently taking immunosuppressant drugs which would help to avoid the rejection of his transplanted organ.
Overall 40 staff members worked on this operation for about 10 hours
For the operation, 4 teams of surgeons, two for the contributor hands and another two for the recipient's limbs – worked to connect the hands to Zion's forearms. First physicians joined the bones followed by blood vessels, muscles, tendons, nerves and finally the skin.
After surgery, Zion took his usual immunosuppressant drugs while being cared for by both kidney and hand transplant teams. After a week in the pediatric ICU, he progressively changed to an inpatient recovery unit where he carries on to get regular and extensive hand therapy.
He was capable to adjust well to life without hands, and with prosthetic feet he has been able to move, run and bounce with full flexibility. Zion shared with his medical professionals that he wishes to throw a football someday in his life, and his care takers fully think that he will be capable to do this as soon as he has finished several more weeks in the rehabilitation center.
Dr. Abraham Shaked, a professor of surgery and director of the Penn Transplant Institute said,
"We have realized the significance of closely monitoring and handling the activity of the immune system as a result of years of experience, and are confident that Zion will enjoy great long-term allograft function and a usual life."
"The capability to plan and execute this type of surgery is testament to the ability, expertise and enthusiasm of the staff at CHOP" said CHOP's chief surgeon, Dr. N. Scott Adzick.
"I am very proud of Dr. Levin and his staff for their guts, commitment and skills, and grateful to Zion and his family members, whose courage and trust in this clinical team is really inspiring."