Why Virtualize Clinical Trials?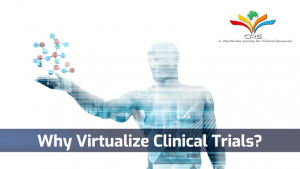 About 10 percent of new drugs complete the first phase of a clinical trial but patient participation drops by 30 percent in Phase III. Traditional clinical trials are bogged down by logistical difficulties, regulatory glitches and other problems which delay the delivery of new devices, drugs and other treatments to needy patients. 
Patient-centered philosophy with array of innovative cloud-based tools for virtual clinical trials can eliminate obstacles presented by the standard trial model and benefit the sponsoring companies, clinics, investigators and patients. The patient-centric model with upfront planning and integrated technology platforms can facilitate the implementation of virtual trials with a promise to increase patient accessibility and engagement while reducing patient burden. 
Patient-Centered Approach 
The traditional clinical trial model causes inconvenience to participants as well as limits the quality and quantity of the collected data. Patients are required to travel to trial site for regular appointments with investigators for generation and collection of data. The inconvenience associated with travel creates a burden for patient which contributes to the dropout rate in later phases of the trial. 
A virtual clinical trial increases participation and improves trial dynamics. Technology allows patients to record and gather data from home to provide a complete picture of overall health. Video tools allow doctors to interact and immediately respond to patients needs. A variety of online apps and tools allow patients to become active participants engaged throughout the trial period. With easily accessible databases and virtual tools of available clinical trials can help patients find relevant and appropriate trials for enrollment.
Cost efficient and Time Saving platform
Implementation of technology for virtual approach reduces cost for short and long term trials. Faster collection of quality data makes the trial more efficient for quicker decision-making process. Patients share appropriate information instantly with investigators for wider participant accessibility. Virtual databases can directly collect and store data while cloud-based analytics extract relevant information from report transcripts without the risk of human errors.
Streamlines Trial Management
Virtual clinical trial technology streamlines the trial process for investigators through tech wearable and transmits data at all times. This in turn minimizes investigator's urgency to collect relevant data during the short visit. The virtual trial technology provides tools for processing and analyzing data, thus, reducing the time devoted by the staff to manage data at site.
Improve Regulatory Compliance
Virtual technology improves documentation process and regulatory compliance at all levels. Cloud-based analytical tools analyze missed or non-compliant elements in documents and ensure all required standards in a trial are met in advance. This in turn saves money and time spent on supplementing and revising previously submitted documents. The Food and Drug Administration (FDA) under Clinical Trials Transformation Initiative supports virtual technology to improve clinical trials and develop new opportunities that incorporate mobile technology for all kinds of trials.