Walking Once a Week At Least for 30 Minutes is Beneficial for Chronic Kidney Disease Patients
More than 25 million people in US suffering from Chronic kidney disease (CKD). But new study indicates that sufferers with the CKD can decrease the need for a kidney transplant or dialysis and extend life, simply by walking more.
The study team, from the China Medical University Hospital in Taiwan, last week released their outcomes in the C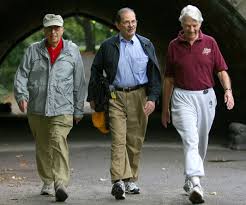 linical Journal of the American Society of Nephrology.
Chronic kidney disease is described as a constant loss of kidney function. As the disease turns into more serious, the kidneys can find it difficult to take out waste and unwanted water from the body. A waste deposition can guide to other health issues, like as anemia, high blood pressure, nerve damage and poor nutritional health.
The last stage of kidney disease is well-known as end-stage renal disease (ESRD), or renal failure. This is when the kidneys halt working entirely. At this stage, a individual would need dialysis or a kidney transplant to sustain life.
Sufferers with CKD can usually experience tiredness and lack of strength, which, in turn, can decrease their levels of physical exercise. In this recent research, the scientists wished to see if a simple work out – walking – could offer advantages to CKD sufferers.
Walking at least once a week for 30 minutes good for CKD Patients
The group examined 6,363 CKD sufferers of an average age of 70 years in between 2003 to 2013. All sufferers were among stages 3 and 5 of the disease and were observed for an average of 1.5 years. Walking was claimed as the very common kind of exercise among 21 percent of sufferers.
The scientists identified that overall; sufferers who walked for exercise were 20 percent less probably to require dialysis or a kidney transplant and 34 percent less probably to die, in comparison with sufferers who did not participate in exercise.
The group also identified that the more walking sufferers did, the less probably they were to die. Sufferers who walked 1-2 times a week were 17 percent less probably to die than sufferers who did not walk, while those who walked, 3-4, 5-6 and 7 times or additional a week were 28 percent, 59 percent and 60 percent less likely to die, accordingly.
Sufferers who walked 1-2, 3-4, 5-6 and 7 times or more in a week were also 19 percent , 28 percent , 44 percent and 45 percent less probably to require dialysis or a kidney transplant, accordingly, in comparison with those who did not walk.
Leaving comments on the team's outcomes, research co-leader Dr. Che-Yi Chou states that:
"We have proven that CKD sufferers with comorbidities were capable to walk if they desired to, and that walking for exercise is connected with enhanced patient survival and a reduced threat of dialysis.
A little amount of walking – once in a week for at least 30 minutes – seems to be advantageous, but more regular and longer walking may offer a more beneficial effect."