US FDA Proposes Ban on Powdered Gloves
US Food and Drug Administration (FDA) has chosen to ban most powdered gloves due to the fact that they cause a health risk to health professionals and patients, and new or modified labeling would not be sufficient to decrease the risk.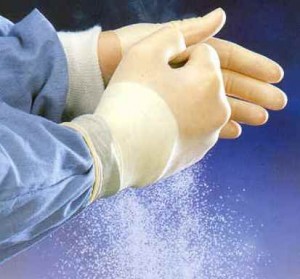 In their recent announcement US FDA states that:
"The suggested ban is applicable to powdered surgeon's gloves, powdered patient assessment gloves and absorbable powder for lubricating a surgeon's glove."
Dr. Jeffrey Shuren, director for Devices and Radiological Health at the FDA, states that the objective of the ban is to secure sufferers and health professionals from risks they may not even be aware of.
The FDA say they reviewed all the accessible proof prior to suggesting the ban. They examined all the accessible scientific literature and feedback they obtained following a Federal Register Notice they posted in February 2011.
Powder in the form of cornstarch is often included to gloves to make them simpler for doctors, nurses and other health care specialists to put on and take off. But, notes the FDA, there are various factors why powdered gloves pose health risks.
One cause is that in natural rubber latex gloves, the aerosolized glove powder can bring proteins that can result in respiratory allergic reactions. This is not the case, though, with synthetic (non-rubber) powdered gloves.
Severe side effects
On the other hand, while synthetic powdered gloves do not present a risk of allergy due to the proteins that can stick to the powder, the use of powder in itself is connected to a long list of possibly serious side effects, notes  the FDA.
These possibly serious side effects – which consist of wound inflammation, post-surgical adhesions, and serious airway inflammation, have been linked to the use of glove powder in all kinds of gloves.
Post-surgical adhesions are bands of scar tissue that form between internal organ and tissues.
The FDA say the objective of the ban is to eliminate the products from the marketplace entirely, as these hazards cannot be fixed by new or modified labeling.
The FDA also performed an economic analysis that identified a ban on powdered gloves would not result in a glove shortage and would have no economic effect. It would not impact medical practice since many non-powdered choices are available, they note.
The prohibition does not apply to powdered radiographic protection gloves. The federal agency notes they are "not conscious of any powdered radiographic protection gloves that are presently on the market. The proposed ban will be offered for public view and opinion on the regulations website for 90 days.
Dr. Sidney Wolfe, a senior adviser with the Public Citizen (consumer watchdog group)says they first petitioned the FDA in 1998 to ban powdered surgical latex gloves.
The FDA refused the petition, but Public Citizen petitioned once again in 2011, calling for all powdered medical gloves to be prohibited."
He states that there is no new proof today that was not accessible in 1998 about the dangers posed by cornstarch powder and latex in surgical and sufferer examination gloves.
Concluding this Dr. Wolfe said,
"Had the federal authority started the process of prohibiting powdered medical gloves in 1998 rather than 18 years later, lots of health staff and patients would have been spared preventable, often life-threatening adverse reactions."