Single Intravenous Dose of Antibiotic Found Effective in Treating MRSA
Scientists at Duke Medicine in Durham, have identified that a new single-dose antibiotic is as successful as the present standard therapy for methicillin-resistant Staphylococcus aureus(MRSA), which includes a daily twice infusion being given for up to 10 days.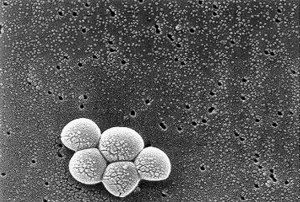 A persistent issue with antibiotic resistance is that sufferers seem to stop getting antibiotics once they feel much better. In these situations, it is feasible for some bacteria to endure and then develop impervious to the medicines that fight them.
One benefits of the new drug, known as oritavancin, is that it has a long half-life, which enables for a single-dose therapy as the medicine will keep on working to kill bacteria over the entire treatment period.
"Owning a single-dose drug could possibly avoid hospitalizations or decrease the amount of time sufferers would devote in the hospital," claims Dr. G. Ralph Corey, led author of the research.
To check this, scientists performed a 3-year research of oritavancin, hiring almost 2,000 sufferers across two trials.
Single IV dose as successful as standard therapy
In the initial randomized trial, 470 individuals with stubborn skin infections – such as methicillin-resistant Staphylococcus aureus (MRSA) – had taken this new drug, while 474 individuals followed the standard treatment – a drug known as vancomycin.
Reporting their outcomes in the New England Journal of Medicine, the scientists identified that a single IV of oritavancin was as successful at reducing the size of the lesion and decreasing fever as vancomycin.
The two drugs also revealed similar efficiency in treating infection and decreasing the wound area by 20% or more in the initial 48-72 hours of treatment.
However, this is not the initial trial to discover oritavancin effective at killing MRSA. A report provided by Targanta Therapeutics Corporation at the 47th Annual Interscience Meeting on Antimicrobial Agents and Chemotherapy in 2007 also claimed success with oritavancin.
Formerly, the antibiotic linezolid had also been recommended as a more efficient substitute to vancomycin. A 2011 research revealed a 76.6% clinical achievements rate for linezolid as a therapy for MRSA hospital-acquired pneumonia at the end of therapy, whereas a control group obtaining vancomycin claimed just 57.7% clinical success.
Identifying appropriate therapy choices for sufferers is especially challenging, as the toxicity of the pathogen can differ, which impacts the course of the disease. Therefore, this method would allow doctors to tailor therapy more accurately to individual patients.