Scientists discover 16 new Gene Regions that regulate Blood pressure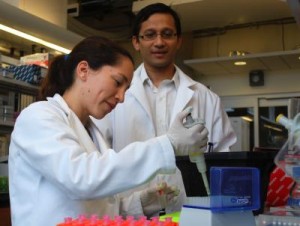 In an article published in Nature Genetics and Nature, British, European, and American researchers have discovered 16 new gene regions that are responsible for controlling blood pressure levels. The International Consortium for Blood Pressure Genome-Wide Association Studies published the articles. According to authors, this novel discovery is a gigantic step forward towards understanding the effect of inheritable factors on people's blood pressure.
The scientists opined that their discovery would pave the way for designing potential new, targeted therapies to treat and prevent hypertension, stroke, and heart disease.
The international study comprised a team of 351 European and American researchers from 24 different countries globally. Data gathered from 270,000 individuals was evaluated to determine what gene variations in an individual's DNA might be associated blood pressure variations, including both low and high blood pressure.
The scientists discovered that 16 new gene regions were responsible for regulating blood pressure levels. They further pinpointed 12 gene regions, previously identified by researchers at the Barts and London Medical School.
The 28 gene regions were then examined to determine the effects of their combinations on the risk of developing coronary heart disease, hypertension, stroke, and structural heart changes.
Researchers found that the combined effects of these variations were similar to the effects of standard blood pressure lowering medications on blood pressure. It was also remarkable to observe that their genetic effects on blood pressure levels were similar in individuals of East Asian, African, South Asian, and European ancestries.
A combination of lifestyle and genetics are the key factors that affect blood pressure, and authors note that until now, their accurate identification has been tricky. Globally, over one billion people suffer from high blood pressure, or hypertension. It is not long before a slight increase in blood pressure heightens the risk of heart attack and stroke.
Professor Patricia Munroe from Barts and The London Medical School said, "This large multicentre collaboration has yielded many new genes for blood pressure, determining which gene and their function will improve our understanding of the basic architecture of hypertension, and should facilitate new therapeutic drug development."
Professor Mark Caulfield President of the British Hypertension Society said, "High blood pressure affects a quarter of the adult population in the UK. These new gene regions we report today offer a major leap forward in our understanding of the inherited influences on blood pressure and offer new potential avenues for treatment which is particularly welcome for those who do not achieve optimal blood pressure control."
Dr Toby Johnson said, "There were enormous challenges to overcome in collecting and analyzing the amount of data we needed for this study. Our discoveries illustrate the power of international collaborative research.