SCENESSE : First Drug for Rare Sun Disease Received Approval from EMA
A novel drug SCENESSE® designed and developed for the debilitating genetic disorder porphyria (EPP), or absolute intolerance to sunlight by Australian Pharmaceutical Company Clinuvel has obtained regulatory acceptance from the European Medicines Agency (EMA). The fear of long term burns needs EPP sufferers to lead an indoor, isolated existence preventing any form of light.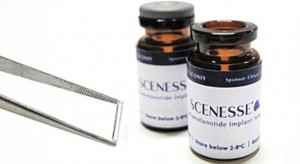 SCENESSE® is the initial treatment ever to have been designed for EPP.
EPP is characterized by an excessive risk of serious burns (phototoxicity) of the skin causing in unbearable pain, inflammation, scarring and a state of distress. A serious reaction – activated by visibility to light, specifically sunlight – may consequence in hospitalisation.
Since 2006 Clinuvel Pharmaceuticals has designed, developed and examined SCENESSE®. The medicine – the initial approved from a new family of drugs well-known as melanocortins – functions as an anti-oxidant and triggers melanin in skin, offering sufferers with a biological barrier in between their skin and the numerous wavelengths of light leading to phototoxic reactions. Clinical studies in 350 adult EPP sufferers have shown the medication to be well tolerated, to decrease the occurrence and severity of reactions, and to considerably enhance patients' quality of life.
"The life of a sufferer with EPP is one of social deprivation, punctuated by times of second degree burns and intolerable pain right after exposure to daylight or bright inside lighting," Clinuvel's Acting CSO, Dr Dennis Wright stated. "For a decade now my team continued to be inspired by the unique chance to offer a product that could be life changing for these sufferers."
The EMA's Committee for Medicinal Products for Human Use (CHMP) has suggested that SCENESSE® be accepted under exceptional circumstances (EC) following announcing in September that SCENESSE® was the initial drug in a European pilot program integrating patients' and doctors' clinical experiences in the regulatory decision procedure.
The EC acceptance acknowledges the difficulties of performing clinical studies in rare and severe problems and allows access to therapies for sufferers without substitute treatment.
1 An EC approval will allow Clinuvel to market SCENESSE® for EPP throughout the 31 EMA states.
2 As part of the EC acceptance, Clinuvel and the EMA have decided to a extensive post-authorisation pharmacovigilance plan to follow-up sufferers long term.
Clinuvel's CEO, Dr Philippe Wolgen stated "Medical innovation needs an excellent emphasis with a consistent strategy, enthusiastic team and long term believe in from sufferers and expert doctors worldwide. It is a privileged to have written pharmaceutical history for these sufferers."
"The instant goal now is to facilitate accessibility for European sufferers in the coming months, while we owe it to our American sufferers to speed up the submission of the SCENESSE® dossier to the US FDA."