Researchers Developed Post Exposure Treatment for Ebola
Investigators from The University of Texas Medical Branch at Galveston and Tekmira Pharmaceuticals have successfully developed a post-exposure therapy that is effective against a particular strain of the Ebola virus that wiped out 1000's of individuals in West Africa.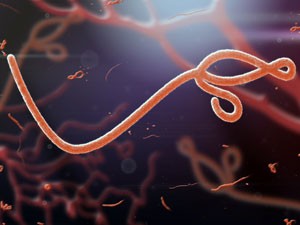 The research outcomes, in the journal Nature, confirmed that the therapy is the initial to be shown effective against the new Makona outbreak strain of Ebola in animals that were infected with the virus and showed symptoms of the condition.
The therapy uses a series particular short strand of RNA, generally known as siRNA, developed to target and intervene with the Ebola virus, making it harmless. One of the advantages of this method is the capability to easily modify it to various viral strains.
UTMB's professor of microbiology and immunology Thomas Geisbert said,  "We easily adapted our candidate therapy to target the Makona outbreak strain of Ebola virus, we were capable to protect all of our non-human primates against a deadly Makona Ebola infection when therapy started three days after infection. At this point, those infected demonstrated clinical signs of disease and had noticeable levels of virus in their blood."
Even though all infected animals demonstrated proof of advanced disease, those getting therapy had milder symptoms and recovered fully. The un-treated controls succumbed to the disease on days eight and nine, which is identical to that reported in the field after sufferers begin showing signs of Ebola.
This therapy also protected against liver and renal dysfunction and blood disorders that take place while in an Ebola infection. These outcomes suggest that the therapy may confer protective advantages that go beyond enhancing survival rates and effective control of virus levels in the body.
President and CEO of Tekmira Pharmaceuticals Dr. Mark Murray, stated"This research shows that we can quickly and accurately adapt our siRNA-LNP technology to focus on genetic sequences emerging from new Ebola virus epidemics."
The Tekmira siRNA-based treatment is now being examined in Ebola-infected sufferers in Sierra Leone.