Psychiatric Medications increasingly prescribed with no diagnosis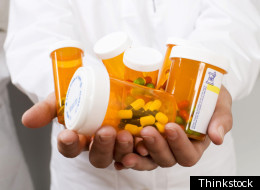 In a report published in Health Affairs, researchers said that nearly 59.5% of antidepressant prescriptions were prescribed with no diagnosis in 1996, and the figure jumped to 72.7% in 2007. In the USA today, antidepressants make up for the third most commonly prescribed class of drugs.
Between 2005 and 2008, the fraction of the American population having an antidepressant prescription during any given month rounded off to 8.9%.
Non-specialist physicians whose patients are not diagnosed by a psychiatrist make up for a large proportion of growth rates of these antidepressant prescriptions.
Lead study author and associate professor with the Bloomberg School's Department of Mental Health, Ramin Mojtabai, MD, PhD, MPH, said: "We've seen a marked increase in antidepressant use among individuals with no psychiatric diagnosis. Nearly four out of every five antidepressant prescriptions are written by non-psychiatrist providers."
An increase in the numbers of antidepressant prescription medications were a result of nearly 2.5% visits to non-specialist psychiatrists. The figure jumped to 6.4% in 2007. At the same time, antidepressant prescriptions recommended by primary care physicians (general practitioners) for non-psychiatric disorders increased from 3.1% to 7.1%.
According to researchers, antidepressant prescriptions recommended to patients diagnosed by a psychiatrist increased from 1.7% to 2.4% between 1996 and 2007.
The authors urge that although their findings do not indicate antidepressant abuse, they accentuate the necessity to establish what exactly is fueling this nationwide trend.
To conclude, the authors said: "To the extent that antidepressants are being prescribed for uses not supported by clinical evidence, there may be a need to improve providers' prescribing practices, revamp drug formularies, or vigorously pursue implementation of broad reforms of the health care system that will increase communication between primary care providers and mental health specialists."