Preclinical Data Gives New Hope for HIV Vaccine
Crucell Holland B.V, from the Janssen Pharmaceuticals Inc which is owned by Johnson & Johnson recently reported new pre-clinical data in Journal Science which gives new hope for the development of an HIV vaccine.
Dr. Paul Stoffels, CSO and Global chairman of J&J Pharmaceuticals says:
In spite of great development in HIV therapies, HIV continues to be one of the biggest world-wide health threats of our time with large number of people carrying on to be infected each year. Our final target is to develop a vaccine that prevents HIV in the first place. By Janssen working together with several stakeholders on new methods, we wish one day to help remove HIV.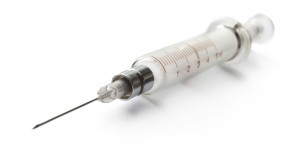 Repeated attempts to produce a successful HIV vaccine over the last 3 decades have until now been unsuccessful. However, previous month, Science and the journal Cell reported the outcomes from studies examining an immunogen that may be effective as the first in a series of immunizations against HIV. This immunogen, known as eOD-GT8 60mer, was developed by a team at The Scripps Research Institute's International AIDS Vaccine Initiative.
Possibility of infection per exposure approximated to be '100-times lower'
Hanneke Schuitemaker, Janssen's vice president incharge of developing viral vaccines, said "depending on epidemiological data, we approximate that the threat of a person to become infected per exposure is about 100-times lower".
With respect to the outcomes of the pre-clinical study, the vaccine provided "full protection" to the 12 pre-clinical trial subjects from becoming infected with simian immunodeficiency virus (SIV). Each trial participant was subjected to the virus six times.
The study outcomes recommend there is also a strong connection between the vaccine's defensive capability and the number of antibody functions to deal with the virus. The vaccine developers cite this "polyfunctionality" as proof that the vaccine may be successful in human participants.
Dr. Dan H. Barouch, lead author of the study says:
"We are extremely motivated by the outcomes of this preclinical HIV vaccine trial, and the results lead to a very clear path forward for examining this HIV vaccine in human participants."
Presently, 400 participants are being enrolled in the US and Rwanda for a phase 1 study. Various components of the vaccine are also presently being assessed in on-going phase 1 clinical studies.
However, this has not been the only big news of HIV vaccine in this week
HIV vaccine investigator jailed for falsifying information
On Wednesday, The Washington Post revealed that Dong Pyou Han, a previous Iowa State University investigator was jailed for falsifying HIV vaccine study.
Dong spiked rabbit blood with human antibodies, which provided a fake impact that the rabbits in his team's research were increasing an immune reaction that was neutralizing the HIV virus they were infected with.
Dong started spiking the rabbit blood in 2008, reportedly to hide the accidental contamination of blood samples. However, it was not known till 2013 – when Harvard investigators tried to confirm the Dong Pyou Han team's outcomes, they found human antibodies in the samples.
Han has Sentenced to 4 and a half years in jail, also been directed to pay back the $7.2 million in federal government funds that his team obtained using the falsified outcomes. He has also been prohibited for pursuing federal research funds for 3 years.
Other Articles You May Be Interested In:
New Device for Parkinson's disease and Essential Tremor Got Approval from US FDA
Bacterial Sepsis Protein May Slowdown Tumor Development