Pancreatic Cancer: FAK Inhibitors to Chemotherapy and Immunotherapy might Increase Survival Rate
Pancreatic cancer is among the challenging cancers to treat; tumors of the pancreas usually do not react to present treatments. In a new research, investigators expose how they may have identified a way to enhance the therapy response of these tumors.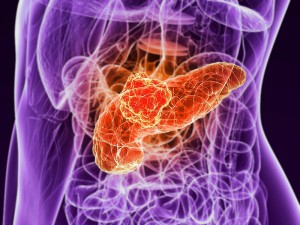 This new study presented in the journal Nature Medicine, shows how providing a drug known as a focal adhesion kinase (FAK) inhibitor to pancreatic cancer mouse models considerably enhanced tumor reaction to chemotherapy and immunotherapy, improving the rodents' survival rate.
Senior author David G. DeNardo and colleagues now prepare to examine this drug combination in human beings with advanced pancreatic cancer, with the expect it will considerably enhance patient outcomes.
The rate of survival for pancreatic cancer is minimal, with only about 7.7 % of sufferers surviving 5 years or higher after diagnosis.
David G. DeNardo says
"Pancreatic tumors are notoriously un-responsive to both conventional chemotherapy and newer types of immunotherapeutics".
"We believe that the fibrous atmosphere of the tumor that is typical of pancreatic cancer may be liable for the poor reaction to immune treatments that have been successful in other kinds of cancer."
DeNardo further describes that FAK's are recognized to play a significant function in the development of fibrous tissue in cancer and a number of other conditions.
Fibrous tissue helps to protect cancer cells by stopping the immune system from attacking them. This prevents the cancer cells from coming into the bloodstream, which decreases their visibility to chemotherapy.
With this in thoughts, he and his colleagues set out to identify whether suppressing the FAK pathway might stop the development of fibrous tissue, and consequently make tumors more responsive to therapies.
'Three-pronged strategy' tripled survival rate of mice
For their research, mice with pancreatic tumors were given either chemotherapy alone, immunotherapy alone, an FAK inhibitor alone, a combo of chemotherapy or immunotherapy with an FAK inhibitor, or a combo of all 3 therapies.
Adding an FAK inhibitor to immunotherapy seemed to have no effect on the survival of the mice, the investigators report.
In comparison with mice that obtained chemotherapy alone, those that obtained a combo of immunotherapy and the FAK inhibitor shown an enhanced tumor response.
However, the mice that obtained a combo of all  the 3 treatments – the FAK inhibitor, immunotherapy, and chemotherapy – demonstrated a much greater tumor response; survival rate more than tripled for some of the rodents, and at 6 months after therapy, these mice demonstrated no signs of disease progression.
Based on their results, the investigators suggest adding FAK inhibitors to chemotherapy and immunotherapy has the possible chances to enhance results for sufferers with pancreatic cancer, and they now plan to examine this strategy in the human trial.
Co-author Dr. Andrea Wang-Gillam, says
"We desire to enhance results for these patients, particularly since survival with metastatic pancreatic cancer is generally only 6 months to a year.
The benefits of our three-pronged approach are that we are fighting the cancer in several ways, breaking up the fibers of the tumor microenvironment to ensure that more immune cells and more of the chemotherapy drug can harm the tumor."