Newly Developed Patches Deliver Ibuprofen without any Side effects
Ibuprofen is utilized by many individuals to relieve pain, lessen inflammation and to decrease fever. Although there are a lot of concerning side effects connected to excessive use of the drug, a new ibuprofen patch has been developed that can provide the drug at a constant dose rate without having the side effects connected to the oral form of ibuprofen.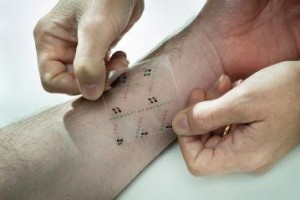 The patch was developed by investigators at the University of Warwick in the UK, lead by research chemist Prof. David Haddleton.
The US FDA have recently increased the warning labels that come with nonsteroidal anti-inflammatory drugs (NSAIDs) like ibuprofen.
New labels notify that such drugs raise the risk of heart attack or stroke, and these events occur without caution, possibly resulting in death. In addition, such dangers are greater for individuals who take NSAIDs for a very long time.
Ibuprofen can also lead to ulcers, bleeding or slots in the stomach or intestine.
With these threats in mind, discovering a substitute way to reduce pain without the threats is a worthwhile endeavor. Though there are commercial patches on the market developed to relieve pain, this is the initial patch that provides ibuprofen via the skin.
"Many commercial patches amazingly don't consist of any pain relief agents at all," claims Prof. Haddleton, "they just soothe the body by a warming effect."
Patch drug load 5-10 times that of present patches
Doing work with a Warwick spinout organization known as Medherant, the investigators were able to put considerable quantities of ibuprofen into a polymer matrix that holds the patch to the patient's skin, allowing the drug to be provided at a constant rate over a 12-hour period.
The investigators say their patch paves the way for other new long-acting pain relief products that could be used to deal with common conditions – like as back pain, neuralgia and arthritis – without taking oral doses of the drug.
Prof. Haddleton describes that, for the first time, they can "produce patches that consist of useful doses of active ingredients like as ibuprofen for which no patches presently exist."
He adds that they are capable to "enhance the drug loading and stickiness of patches that contains other active ingredients to enhance patient convenience and outcome."
The team notices that the drug load made feasible by their new technology is 5-10 times that of present medical patches and gels. In addition, due to the fact the patch stick well to skin, it remains put even when the drug load gets to levels as high as 30% of the weight or quantity of the patch.
Other possible uses for the patch
There are presently a variety of ibuprofen gels accessible, but the investigators say it is challenging to control dosage with these gels, and they are not practical to apply.
"There are only a restricted number of current polymers that have the suitable characteristics to be applied for this kind of transdermal patches – that will keep to the skin and not leave residues when being simply removed," says Prof. Haddleton, who adds:
"Our results in establishing this breakthrough patch design is not restricted to ibuprofen; we have also had good outcomes testing the patch with methyl salicylate (used in liniments, gels and some leading commercial patches).
We consider that many other OTC and prescription medication can exploit our technology, and we are looking for possibilities to examine a much wider range of drugs and therapies within our patch."
Medherant CEO Nigel Davis states that they assume their new patch will be on the market place in around 2 years. He adds that they "can see significant opportunities in operating with pharmaceutical organizations to develop modern products using our next-generation transdermal drug-delivery platform."