Majority of Youth vape e-cigarettes for Flavor not for Nicotine
With the use of e-cigarettes (electronic cigarettes) on the increase among teenagers, issues have been increased that the devices may be fueling a "nicotine epidemic." New study, on the other hand, states this is not the case, after discovering that most youth use e-cigarettes to vape the flavor, instead of  nicotine.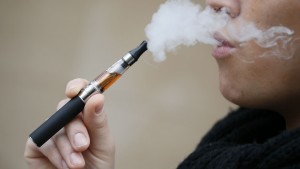 E-cigarettes are battery powered equipment that heat liquids, giving out a vapor that the user breathes in, or "vapes." Such fluids come in various flavors, and many consist of nicotine and other substances.
With respect to a report presented by the Centers for Disease Control and Prevention (CDC) in 2015, present use of e-cigarettes among middle and high school students increased three times between 2013-2014.
The range of middle school students using e-cigarettes enhanced from 1.1 % to 3.9 % during this period, while use of the devices among high school students increased from 4.5 % to 13.4 %.
Dr. Richard Miech and co-author of the new research, and colleagues observe that there is a common prediction among investigators and policymakers that all young people who use e-cigarettes are inhaling nicotine.
The authors say this is shown in the generally used term "electronic nicotine delivery systems" (ENDS), which indicates the equipment are often used to inhale nicotine.
However, the investigators say there is minimal data on the extent to which youth use e-cigarettes to vape nicotine.
With this under consideration, Dr. Miech and study team started to figure out accurately what substances adolescents are breathing in when they use e-cigarettes.
More than 60% of students vape for the flavor
For their research – presented in the journal Tobacco Control – the investigators used data from the 2015 Monitoring the Future Survey – a yearly, nationwide representative survey that contains students from 8th, 10th, and 12th grades.
As part of the survey, nearly 14,983 students were questioned about their e-cigarette use, which includes whether they had ever used the equipment, the previous time they had used an e-cigarette, how frequently they use the equipment, and what ingredients were in the vapor they inhaled at last use.
A total of 3,837 students revealed having ever used an e-cigarette, of whom 1,701 revealed vaping in the previous month. Of the students, 1,085 revealed having used an e-cigarette around five times, while 616 revealed using the equipment 6 times or more.
On searching at what ingredients e-cigarette users reported vaping, the team identified "just flavoring" was the very common, with about 65-66 % of students throughout all three grades reporting flavor as the material they consumed at last use.
Vaping nicotine at previous e-cigarette use was reported by 22 % of 12th graders, the investigators identified, along with 20 % of 10th graders and 13 % of 8th graders.
About 6-7 % of students throughout all grades claimed vaping marijuana, while around 6-14 % could not recall what they last vaped, and 1 % claimed vaping some other substance.
These outcomes, the investigators say, recommend attempts by policymakers to ban the sale of e-cigarettes to youths depending on the forecasts that they are often used to inhale nicotine may not be supported by evidence.
In addition, the study team states that the results question the term "ENDS" to explain e-cigarettes, since the equipment are not often used to inhale nicotine.
"The term stands for 'electronic nicotine delivery system,' which seems to be incorrect for the information of a device that the greater part of youth do not use to vape nicotine," the authors note.
'Vaping could still forecast smoking initiation'
Dr. Miech states that the results recommend there is not a nicotine epidemic among youth, though he states that does not mean e-cigarette use cannot work as a gateway to conventional smoking.