How do Heart Cells Transform into Bone
Till date, it is not comprehended how the heart cells transform into bone in response to injury and illness. A recent study reveals the mechanism behind this phenomenon and investigates ways to prevent it.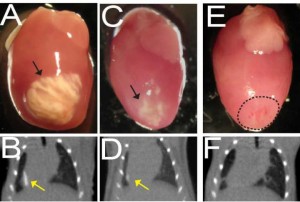 Calcification, the deposition of calcium salts in a tissue, doesn't happen outside of bones in normal conditions. However, abnormal deposition of this mineral in blood vessels and other organs can be seen in patients with diabetes and kidney disorders causing irreversible damage to the organs in which it occurs. When it occurs in heart, it would eventually lead to interruption of transmission of electrical signals. Calcification of heart muscle is considered as one of the causes of heart block.
Researchers from the Eli and Edythe Broad Center of Regenerative Medicine and Stem Cell Research at the University of California, started exploring this fascinating area of medicine in more detail.
Senior author of the study Arjun Deb said, "Heart calcification has been under-studied and under-reported, we asked the question, 'What are the cells in the heart that cause calcification?' and given the strong association between tissue injury, fibrosis, and calcification, we hypothesized that may be it is cardiac fibroblasts (cells that give rise to scar tissue after injury) that are contributing to the calcification process."
Genetic tagging technology was used by Deb and his colleagues to understand the process of calcification within heart tissue. They noticed cardiac fibroblasts in mice getting transformed into bone-forming, osteoblast like cells in response to an injury. Furthermore, they transplanted the cardiac fibroblasts from wounded mice into subcutaneous tissue of healthy mice and observed that the soft tissue got calcified. In a similar way, the team demonstrated the calcification of human cardiac fibroblasts in vitro. The findings were recently published in Cell Stem Cell.
Further, the emphasis is on how this condition may be reversed or alleviated. The prime target for this investigation is ENPP1 (Ectonucleotide Pyrophosphatase/Phosphodiesterase 1), an enzyme that is over expressed by cardiac fibroblasts following an injury. Injection of ENPP1 inhibitors prior to injury resulted in reduction of calcification process by about 50 %
In particular, injection of etidronate, a drug that increases the bone mineral density, has shown most promising results with no measurable calcification following injury. This research lays a strong foundation for future research in this aspect of physiology. Deb says: "We now want to see whether this is a common pathway to calcification regardless of etiology and if what we found can be broadly applied to tissues across the body."
Currently, the team is focusing on discovering other small molecules that alleviate or prevent calcification in blood vessels. Since ENPP1 is only efficient prior to injury, there is need to search for molecules that can be effective following an injury.