A New Study Suggest that Ibuprofen is Superior than Morphine in Treating Child's Fractures
The outcomes of a randomized study presented in the CMAJ recommend that ibuprofen is preferable to morphine as a pain reliever for kids with broken limbs. Even though both drugs offer effective pain relief, ibuprofen is connected with less serious side effects than morphine among this age group.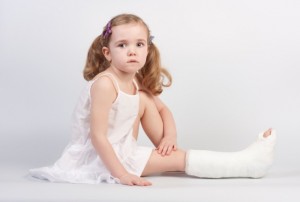 Bone injuries reports for up to a 1 / 4 of all accidents among kids, with the most serious pain happening in the first 48 hours after injury.
As there are safety issues over the use of codeine in kids, there are very few pain relief alternatives for kids with broken limbs. The research notes, however, that oral morphine and other opioids are progressively being recommended for pain relief among kids.
"However," write the authors, "proof for the oral administration of morphine in severe pain management is restricted. Thus, additional researches are required to deal with this gap in knowledge and offer a scientific foundation for out-patient analgesic choices in kids."
The investigators – from London Health Sciences Centre and Western University in Ontario, Canada – compared the results of 66 kids whose pain was taken care of using morphine with the results of 68 kids who were given ibuprofen for fracture pain. All individuals were aged 5-17 years.
The outcomes show that, although both of the drugs were successful for reducing pain, there were additional adverse events – such as drowsiness, nausea and vomiting – connected with morphine.
"Taking into consideration that morphine was connected with substantially additional adverse effects, we consider that ibuprofen continues to be a safe and efficient treatment for out-patient management of children's fracture pain," write the authors.
"We trust that our research results will give doctors with a base for rational analgesic alternatives for kids with fractures who are released from the emergency department," they add.
Ibuprofen 'most effective' for kid's musculoskeletal injuries
A research conducted in 2007, presented in the journal Pediatrics, identified that ibuprofen – in comparison with acetaminophen and codeine – is the very effective as reliever for kids with acute musculoskeletal injuries.
In that study, around 300 kids were randomly allocated to be dealt with oral doses of either 15 mg per kg of acetaminophen, 10 mg per kg of ibuprofen or 1 mg per kg of codeine.
The kids in each group were of identical age and had a comparable history of painkiller use, and their injuries diagnoses and pain levels at the beginning of the research were also identical.
Over a duration of 60 minutes right after the administration of painkillers, the kids were regularly asked to rate their pain levels on a range from 0 to 100.
The investigators behind this research found that, soon after 60 minutes, the ibuprofen group revealed the largest reduce in pain. Acetaminophen and codeine did not vary considerably in their capability to decrease pain.
However, only 50 percent of the kids who were given ibuprofen had reduce in pain below the "adequate pain threshold." For that reason, the investigators believe that in some cases, ibuprofen may not be adequate for treating musculoskeletal pain.
One trigger for this could be due to the inflammation-decreasing effects of ibuprofen can often make pain more intense in cases of broken bones and sprains.